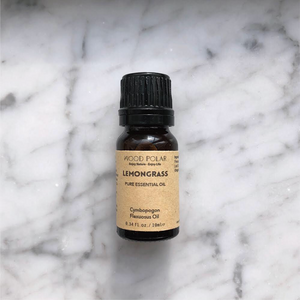 Lemongrass Essential Oil 香茅精油
Wood Polar
Regular price $128.00 Sale
Lemongrass Essential Oil (Cymbopogon Flexuous Oil)
Origin: India

It is used to reduce inflammation, relieve headaches, and ease indigestion. Act as an antimicrobial, a natural insect repellent and air freshener, and may also alleviate stress and relieve pain.
________________________________


Warnings: If pregnant or suffering from illness consult a doctor before use. Keep out of reach of children. As with all products, user should test a small amount prior to normal extended use. For external use only. Do not use directly on skin, dillute in carrier oil. Do not apply to broken or irriated skin. Discontinue use and consult doctor if irritation or adverse reaction occur. Keep away from eyes.

Storage: Store below 30°C and away from direct sunlight. May be flammableor combustible. Use caution when exposing to heat.