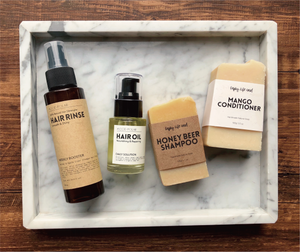 Ultimate Hair Care Kit 天然頭髮護理套裝
Wood Polar
Regular price $0.00 $425.00 Sale
ULTIMATE HAIR CARE KIT
Chemical based hair products destroy your hair's natural beneficial oils. This kit help you to maintain thickness and shine to any kind of hair naturally.  Using our hair care products, you will never have cleaner, softer and healthier hair!
Kit Includes:
Honey Beer Shampoo Bar (100g)
Mango Conditioner Bar (100g) 
Hair Oil (30ml)
>>>>>>>>>>>>>>>>>>>>>>>>>
- Honey Beer Shampoo Soap Bar
Conditioning all natural shampoo in a solid bar, clean hair naturally.
Beer and egg are so rich in nutrients and protein, adding thickness and shine to any kind of hair. The honey is hydrating and soothing for scalp.
- Mango Conditioner Soap Bar
Enriched with cocoa and shea butter plus organic virgin coconut oil,condition and moisturize the follicles without stripping away the natural protective oils of the hair.
Tips for use: Using the soap bar with foaming bag to create a nice lather. Gently massage it into
the scalp and hair as using a bottled shampoo. Make sure rinse completely!
- Hair Oil
Nourishing and smoothing hair naturally, able to replenish and build stronger strands.

Tips for use: Distribute evenly throughout a slightly damp hair, especially to those dry strands.
- Herbal Hair Rinse
Infused different herbs with apple cider vinegar which can provide many benefits
for the hair and scalp. It promotes strong and healthy hair, it also gives hair a shiny, smooth appearance, and protects from moisture loss.

Tips for use: Simply apply it evenly through damp hair from roots to ends. Massage it all over and leave in 2-5 minutes. The vinegary scent disappears as hair dries.
*TRANSITION PERIOD
Hair may increase frizz and angles or case other situations. This is a transition period for hair when going from regular shampoo to shampoo bar. That transition period can last for about a week to months depending on the condition of the hair and how much chemical residue or build up is present. It is a withdrawal phase for the hair to get back to its natural healthy state.

P.S. If you have given it time to adjust but it still does not work, then maybe, it is simply the bar is not suitable for your hair type. We suggest you to try another shampoo bar type.
  * Online Special 網店限定