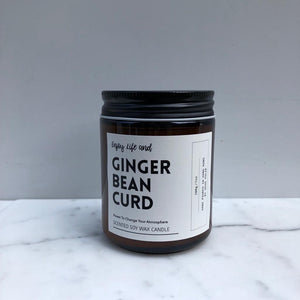 Ginger Bean Curd Soy Wax Candle 甜薑豆腐大豆蠟燭
Wood Polar
Regular price $186.00 Sale
Ginger Bean Curd Soy Wax Candle
A light blend of infused herbs and floral oils. This candle will fill your space with a comforting scent that won't overwhelm your senses.
Wood Polar's candles are made in Hong Kong, using 100% soy wax for an eco-friendly, clean burn and lead-free cotton core wicks primed with vegetable based wax.
Burn Times:
35g/ 1.2oz : Approx. 8- 10 hours
75g/ 2.6oz : Approx. 24- 30 hours
200g/ 7oz : Approx. 45 hours above
Directions:
Trim wick to 1/4" before lighting. Once your candle is burning, leave it to burn long enough so that the wax melts and pools all the way to the edge of the container. Always burn on a fire, heat resistant stable surface. Do not burn for longer than 4 hour intervals. Keep the wax pool free of debris. Stop use when only 1/4" of wax remains.
Care & Safety:
If pregnant or suffering from illness consult a doctor before use. Keep away from children and animals. Never leave a lit candle unattended. Keep aways from things that catch fire. Do not touch or move a candle when it is burning/ hot. Discontinue use and consult doctor if adverse reaction occur. 
Reuse Containers:
Start by remove excess wax by freezing your container, then use a knife to pop out the hard wax. After remove the metal wick tab, wash your container with soap and hot water.
Storage: 
Store candle in a cool place below 30°C and away from direct sunlight.
ECO-FRIENDLY & 100% SOY WAX 
HANDMADE IN HONG KONG