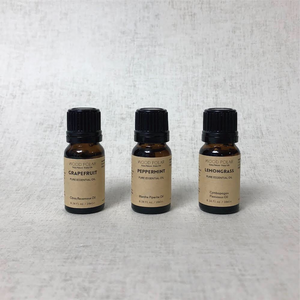 Cleansing Essential Oil Set 香薰油套裝
Wood Polar
Regular price $464.00 $380.00 Sale
CLEANSING ESSENTIAL OIL SET
This trio of essential oil clean your mind and cleanse your home. They can effectively clean and refreshing air and
help promote feelings of vitality and will uplift your mood.
Kit Includes:
Grapefruit Essential Oil (10ml)
Peppermint Essential Oil (10ml)
Lemongrass Essential Oil (10ml)
>>>>>>>>>>>>>>>>>>>>>>>>>
-
Grapefruit Essential Oil

It can be effective at stopping the growth of some types of bacteria and fungi. Well-known for its uplifting and effectiveness of reducing levels of stress and anxiety properties. It may also be beneficial for depression, while simultaneously calms, making it ideal as an overall mood enhancer and relaxant.
-
Peppermint Essential Oil
It has a cool and refreshing scent. It's anti-bacterial properties help to eliminate foul odors in the air and filter out environmental toxins. It also has anti-inflammatory properties that can be useful for treating all kinds of symptoms and conditions that stem from inflammation.  
-
Lemongrass Essential Oil
It is used to reduce inflammation, relieve headaches, and ease indigestion. Act as an antimicrobial, a natural insect repellent and air freshener, and may also alleviate stress and relieve pain.
* Online Special