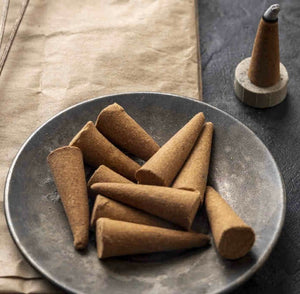 NATURAL PALO SANTO INCENSE CONE 秘魯香薰木三角香
Wood Polar
Regular price $169.00 Sale
NATURAL PALO SANTO INCENSE CONE 
Palo santo is one of the most fragrant woods in the world. Its sweet scent of pine, mint, and lemon has, for centuries, been a harbinger of healing and good fortune.
They are traditionally used as a cleansing, soothing, energizing incense, and as a natural mosquito repellant. The precious, aromatherapeutic wood in this bundle is harvested from naturally fallen branches off the Palo Santo tree in Ecuador—it's clean, eco-friendly, and smells amazing. 
BENEFITS
+ Spiritual Purifying
+ Removal of Negativity
+ Claiming & Relaxing
+ Insert Repellent
+ Household Air-Cleanser
Tip for Use: Place a cone in a heat-proof container and carefully light the tip of the cone. Once the tip of the cone has an orange glow to it, your incense is ready to be enjoyed.

P.S. Keep your incense cone away from drafty areas or open windows.
Burns 20-30mins
-
天然秘魯香薰木
+ 淨化心靈
+ 消除負能量
+ 放鬆身心及減壓
+ 驅趕蚊蟲
+ 淨化空氣
使用TIPS:可以在家裡、辦公室使用。只要燃燒木的一端,30-60後秒吹
熄火焰,然後讓木產生的煙自然地散發香氣。