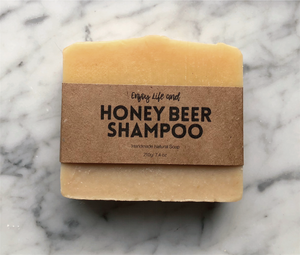 Honey Beer Shampoo Bar 蜜糖啤酒洗髮皂
Wood Polar
Regular price $0.00 $89.00 Sale
This Shampoo Bar is AMAZING for healthy, clean hair! Beer and egg are so rich in nutrients and protein, adding thickness and shine to any kind of hair. The honey is hydrating and soothing for your scalp, which prevents itchiness, dryness, dandruff or greasiness.
Chemical based hair products destroy your hair's natural beneficial oils - our Shampoo Bar works with your natural oils so your scalp can produce fresh, undamaged follicles. The scent is lightly sweet and combined with our Mango & Cocoa Hair Conditioning Bar, you will never have cleaner, softer and healthier hair!
Transition Period: Hair may increase frizz and tangles or case other situations. This is a transition period for hair when going from regular shampoo to shampoo bar. The transition period can last for about a week to months depending on the condition of the hair and how much chemical residue or build up is present. It is a withdrawal phase for the hair to get back to its natural healthy state.
Ingredients: Organic Virgin Coconut Oil, Coconut Milk, Beer, Sunflower Oil, Certified Sustainable Palm Oil (Columbia), Extra Virgin Olive Oil, Lye*, Organic Shea Butter, Hops Infused Grapeseed Oil, Sweet Almond Oil, Castor Oil, Eggs from our own free range chickens, Raw Sustainable Honey & Aloe Vera Powder, Wild Orange Essential Oil, Tea Tree Essential Oil, Anise Essential Oil, RosemaryEssential Oil
*Lye is used during saponification, none remains in the finished product. 
Handmade in Australia